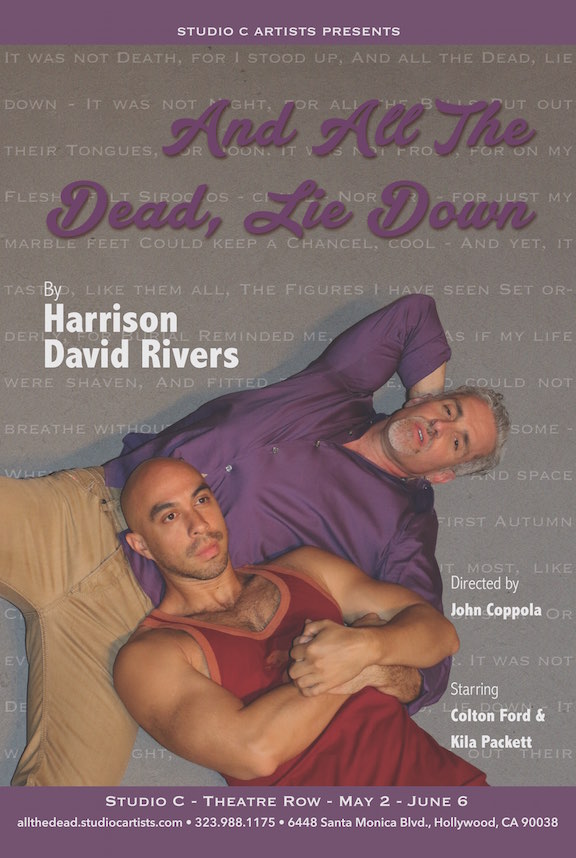 Alvin and Foss spend Saturdays together. That's the rule. That's the routine – no work, no phone calls and no leaving the apartment. But when an unexpected call from Foss' delinquent brother upsets the couples' usual balance, the day becomes a minefield of long suppressed resentments and hurt feelings. The fact that one of them is HIV+ and the other is negative, just exacerbates the situation.  AND ALL THE DEAD, LIE DOWN is a portrait of a couple at a crossroads, a couple pondering the questions – Is love enough to sustain us… And is it worth the risk?
Studio C Artists is proud to present the world premiere of playwright Harrison David Rivers' new drama, AND ALL THE DEAD, LIE DOWN – directed by John Coppola.
And All The Dead, Lie Down
Written by Harrison David Rivers
Directed by John Coppola
Starring Colton Ford & Kila Packett
General Admission – $20.00 ($15 Early Bird*)
Approximate running time: 75 minutes
A STUDIO C ARTISTS PRODUCTION
Producers:  Michael Sonntag & Kila Packett
Stage Manager:  Kate Robertson
Set Design:  Brian Cole
Sound Design:  Alex Nicholas
 
* Use the promo code "earlybird" to get $5 off General Admission seating up to 24 hours prior to the performance.